IN THE GARDEN
February 2022



It's February! Can you believe it? I feel like January blew right by me. I have appreciated this cold weather and three (Yes—3!) weekends with at least a little snow. This seems right and seasonable to me. I worry when we have temperatures in the 70s throughout December. It throws the balance of the seasons off. From my business name, you probably know that I believe experiencing seasons is important for many reasons. Ticks and mosquitos are more abundant in the summer after a warm winter. Snowmelt helps fill reservoirs, lakes, and rivers. Cold temperatures provide the appropriate conditions for latent seeds to germinate outdoors in the spring. And snow is just so dang beautiful! That being said, I wouldn't want to live where it snowed all winter, either. So, I do understand those who are already tired of it. Have faith—the days are lengthening.


I am—like you, no doubt—knee deep in seed catalogs. I collect most seeds from my garden and from seed swaps with friends and plant societies, but I do love the diversity of seeds offered in catalogs this time of year. I can't resist ordering a few, and I'm always glad I did when they bloom. I vow to be more organized with my seeds next winter. I have 75-plus varieties to sow and I've just about finished sorting, cleaning, researching, and organizing them.


What seeds are you most excited about growing? Which catalogs are your favorites? What kind of germination station do you use? Please share your seed stories and photos with me.


Keep sending your gardening questions and let me know how I can help with your gardening goals and dreams. Thanks for reading, and if you've enjoyed this newsletter, please share it with friends.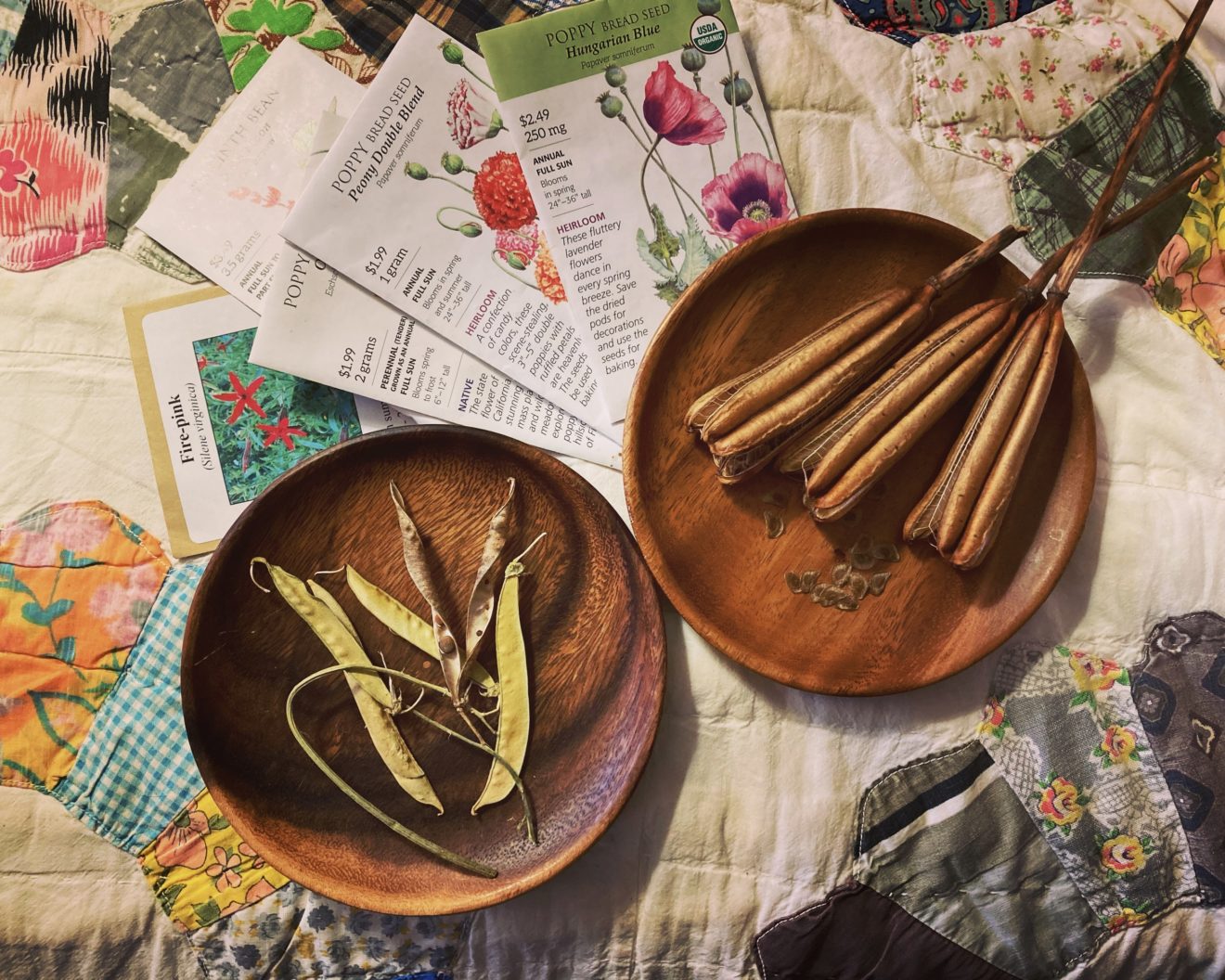 I'm Learning
Online classes and webinars abound these days! And I am here for them. The JC Raulston Arboretum at NC State offers weekly and special programs, both online and in person. On February 5, they're hosting a virtual Gardening in the South presentation focused on successful container gardening. It's free, but you have to register. https://jcra.ncsu.edu/events/details.php?ID=2763
I'm Visiting
Between the snow, cold, and omicron, I've been staying home more this past month. Lucky for me, so many world-class gardens share videos on Instagram, Facebook, and Youtube. One of my favorite gardens, Chanticleer in Wayne, PA, releases a short three- to four-minute video of what's happening in the gardens each week. I look forward to watching and observing changes in the landscape from the comfort of my recliner. A garden is never stagnant, even when it's closed for the season. Check out last week's virtual garden tour: https://youtu.be/1v1e4tNy-nM
I'm Listening
There are a lot of excellent garden podcasts available these days, but one of my favorites is Cultivating Place: Conversations on Natural History and the Human Impulse to Garden. The host Jennifer Jewell has a variety of interesting guests including seed company reps, gardener poets, permaculture experts, ethnobotanists, and garden historians. It's always a fascinating exchange of horticultural ideas and gardening wisdom. Check it out here: https://www.cultivatingplace.com
Monthly Maintenance Calendar
Cut back deciduous ornamental grasses such as Muhlenbergia, Panicum, and Schizachyrium. Tidy evergreen grasses like Stipa and Carex by combing through to remove dead foliage.
Hybrid tea and floribunda roses can be pruned starting now. Remove weak, crossing, damaged stems first. Then prune the remaining plant down by as much as 2/3, creating an open bowl shape for good airflow.
Many summer-blooming shrubs can be pruned now including Vitex, rose-of-Sharon, Buddleja, Hydrangea paniculata, and Cotinus. Remember, don't prune spring-blooming trees and shrubs until after they have finished blooming.
Mulch garden beds. Using organic matter such as bark chips, pine straw or shredded leaves adds a bonus benefit. As it breaks down, it feeds the garden.
Plant bare-root roses and blueberry bushes, as well as many other shrubs.
Direct sow bread seed poppies outside, as well as sweet peas and other seeds that don't like to be transplanted.
Purchase summer blooming bulbs like lilies and gladioli for the best selection.
Continue weeding winter weeds; this is a great time to dig out unwanted wild onions.
Snowdrops can be divided now. This is called dividing "in the green," referring to being in leaf or actively growing.
Solve drainage issues now before spring rainstorms cause problems.
It's also a great time to add a water barrel to catch those spring rains.
Bring stems of forsythia, magnolia, and quince indoors before blooming. Place in a tall vase to enjoy the blossoms inside and brighten up a room.
Keep adding ingredients to the compost pile. A good pile has a mix of Carbon (think brown, i.e. fallen leaves) and Nitrogen (think green, i.e. vegetable scraps) matter. Both are needed to produce an active, healthy compost pile.
Keep up with your garden or phenology journal. Record temperatures, precipitation, budburst, animal sightings, blooms, and anything else that delights you.
Stay curious. Experiment with different kinds of seeds. Take photos of your garden at different times of the day. Hang a bird feeder outside a window where you sit or work. Notice the arrival of various feathered visitors.
For more on gardening in winter months, here's an article I wrote for Midtown magazine https://www.midtownmag.com/plantpruneplan
I'm Doing
Seeds, seeds, and more seeds! I'm getting ready for lots of seed sowing. Some outside in situ, some inside under lights, some outside in a cold frame. There are many different methods of sowing seeds that are plant specific, so invest in a good seed propagation handbook for reference. Also, read the package for information on purchased seeds. Starting in February, seeds are the main attraction.
I'm Recommending
These rubber boots, known as mucks or wellies or bogs, are the best gift I've ever received—from myself. Easy to slip on, easy to clean, and comfortable enough to garden in, I think they're a must for gardeners and those who just like to putter outside in the wet season. I bought mine at REI and they were affordably priced at $49.95. https://www.rei.com/product/169804/kamik-miranda-rain-boots-womens
Until Next Month...
The snow
began here
this morning and all day
continued, its white
rhetoric everywhere
calling us back to why, how,
whence such beauty and what
the meaning; such
an oracular fever! flowing
past windows, an energy it seemed
would never ebb, never settle
less than lovely! and only now,
deep into night,
it has finally ended.
The silence
is immense,
and the heavens still hold
a million candles; nowhere
the familiar things:
stars, the moon,
the darkness we expect
and nightly turn from. Trees
glitter like castles
of ribbons, the broad fields
smolder with light, a passing
creekbed lies
heaped with shining hills;
and though the questions
that have assailed us all day
remain — not a singled
answer has been found —
walking out now
into the silence and the light
under the trees,
and through the fields,
feels like one.
Early Thanksgiving morning, I opened the pantry to get out everything to make stuffing. As I pushed aside cans to find the packages of bread crumbs, I came upon these lovely lavender flowers in the back and thought: What the heck is this? Then, I remembered: Saffron crocus. Oops. A couple of months ago, I bought a wide variety of …
Seasons, cycles, and time have always fascinated me. I enjoy learning how other cultures have experienced these phenomena in diverse ways. In the U.S., we have the four-season astronomical model that's based on the equinoxes and solstices. Some countries use a meteorological definition for seasons—four seasons each containing three complete, undivided months. Some cultures have six seasons. Some have only …