IN THE GARDEN
June 2022



I hope June found you happy and healthy and enjoying the garden you worked so hard in over the past few months. The temperatures are rising here in zone 7B Raleigh, and don't even get me started on the humidity. Summer is here!
But there is something so special about June that makes the heat worth it. Hydrangeas. Right now several species and cultivars of this diverse family is blooming, or about to--lacecaps, mopheads (dwarf variety H. macrophylla 'Pia' in header photo), smooth hydrangea (NC native), oak leaf (NC native), paniculatas, long-blooming Endless Summer, and even a climbing hydrangea. The list is nearly infinite. If you don't have hydrangeas in your garden, consider adding one (or two?) in the fall.


Speaking of planting, if you haven't finished getting your spring plant purchases in the ground, consider this a friendly reminder that it's time to do so. Also, I must confess, not one hour ago I was still planting annuals that I got on sale at Big Bloomers this afternoon. I understand. It's hard to just say no when it comes to buying more plants. Fall will be here before you know it, and that's prime planting time here in North Carolina.


Until then, there's still lots to do in the garden. Summer weeds are popping up everywhere. Stay on top of them and eradicate them before they set seed. Plan to learn a few common weeds each season to help keep your garden as weed-free as possible. It's hard to play catch-up when it comes to weed control. Virginia Tech has an excellent weed identification website.


It's summer. Don't forget to relax and enjoy your garden. Open up the shade umbrella. Light a few citronella candles. Put your feet up. Play your favorite summer music—Vivaldi? Watch as fireflies, or lightning bugs depending on where you live, light up the skies. This easy Peach Bellini recipe is the perfect chilled beverage for cooling down on warm June evenings.


I hope you find this newsletter informative and inspiring. Thanks for reading and sharing with friends.
I'm Reading
Pure delight—Two words that best describe this wonderful book of short essays by garden historian and ethnobotanist, John Forti. Each entry informs and entertains with titles like Artisanal Skills, Herbalism, Old Ways, Seasonality, and Wuttahimneash. The charming woodcuts that accompany are a bonus! Forti says he wrote this book "as a celebration of the renaissance that is taking place in fields, backyards, and local economies around the world." People everywhere are rediscovering the importance of connecting to nature, to their immediate places, and to their local communities. Plants do this. They connect us and help us feel grounded in a world that seems to be ever-shifting under our feet. We need more awareness and this book might help us slow down long enough to find it. For an in-depth interview with the author, listen to this episode of Cultivating Place.
I'm Doing
I'm often asked what I do in the summer garden when it gets SO hot. The garden doesn't slow down in summer, and neither can I. But one of my favorite garden tasks is collecting seeds and there are a lot of seeds to collect in June—larkspur, poppies, love-in-a-mist, bloodroot, cyclamen, and various columbines (our native Aquilegia canadensis pictured here). Yes, they self-sow prolifically. But collecting seeds now insures you have a backup plan, in case you need it.
Monthly Maintenance Calendar
Collect seeds of annuals, including poppies, larkspur, nigella (love-in-a-mist), and aquilegia (columbine).
Wrap up most of your planting asap. As the days grow hotter, plants will struggle to survive. Wait until fall to plant, or transplant, most everything.
That being said, I still tuck in a few heat-loving annuals here and there to fill any bare spots in the garden beds: salvias, petunias, gomphrena.
Water consistently during dry periods, especially new plantings that haven't gotten established.
If you use irrigation, check to be sure it's in good working order and only giving water where it's needed (not on drought-tolerant plants or pavement).
Add mulch where needed to help keep roots cool and moist.
Shape conifers and narrow-leaf evergreens by trimming new growth.
Prune gardenias immediately after blooming.
Get azaleas pruned before July 4th. Wait any longer and you risk losing next year's blooms. Encore azaleas are different as they require very little pruning. More info click here.
This is the time to deadhead perennials to promote new growth—coneflowers, phlox, Shasta daisies, rudbeckia, geranium.
Prune lace cap and mophead hydrangeas immediately after blooming. Take some inside while blooming to enjoy indoors. They make great cut flowers and are even beautiful after they dry.
Keep grooming containers so they stay nice-looking and fresh all season. Replace under-performers. Don't be afraid to try something different. Containers are excellent for experimentation.
Keep on top of weeds.
Stake plants as needed.
Look out for disease and pest issues before they get out of hand. Prevention is key, as is good cultural practices and choosing the right plant for your garden.
Take softwood cuttings https://www.rhs.org.uk/propagation/softwood-cuttings.
Drink lots of water and try to plan your gardening tasks to occur when the sun is not so intense—early morning and early evening. Heatstroke is serious.
I hope you're still keeping a garden or phenology journal. It will come in handy over the garden years.
I'm Visiting
I recently visited Montrose Gardens in nearby Hillsborough, NC. I worked at Montrose for nearly 14 years but hadn't been back for several years. It is still breathtakingly beautiful! I didn't see the big poppy show of May, but there were still pockets of poppies blooming around the garden in early June. The vivid colors and imaginative plantings are still everywhere, but there were some edits throughout. A good lesson about gardening—there will always be lots of editing to do to keep it fresh and inspiring. If you ever get a chance to visit on a pre-planned tour or on one of their Open Garden Days, do it! You will not be sorry. It is one of the most special and spectacular private gardens in North Carolina. https://www.montrosegarden.org
I'm Recommending
Every Thursday evening between Memorial Day and Labor Day, we're staying open until 8 p.m. so you can enjoy our display gardens after work and in cooler temperatures. Our exhibit hall and Garden Shop will be open, and you're welcome to bring a picnic to enjoy outdoors—we have lots of benches and picnic tables, plus open lawn areas for blankets.
Until Next Month...
"I think the true gardener, the older he grows, should more and more develop a humble, grateful and uncertain spirit."
~Reginald Farrer, In a Yorkshire Garden


Poppies at Montrose Garden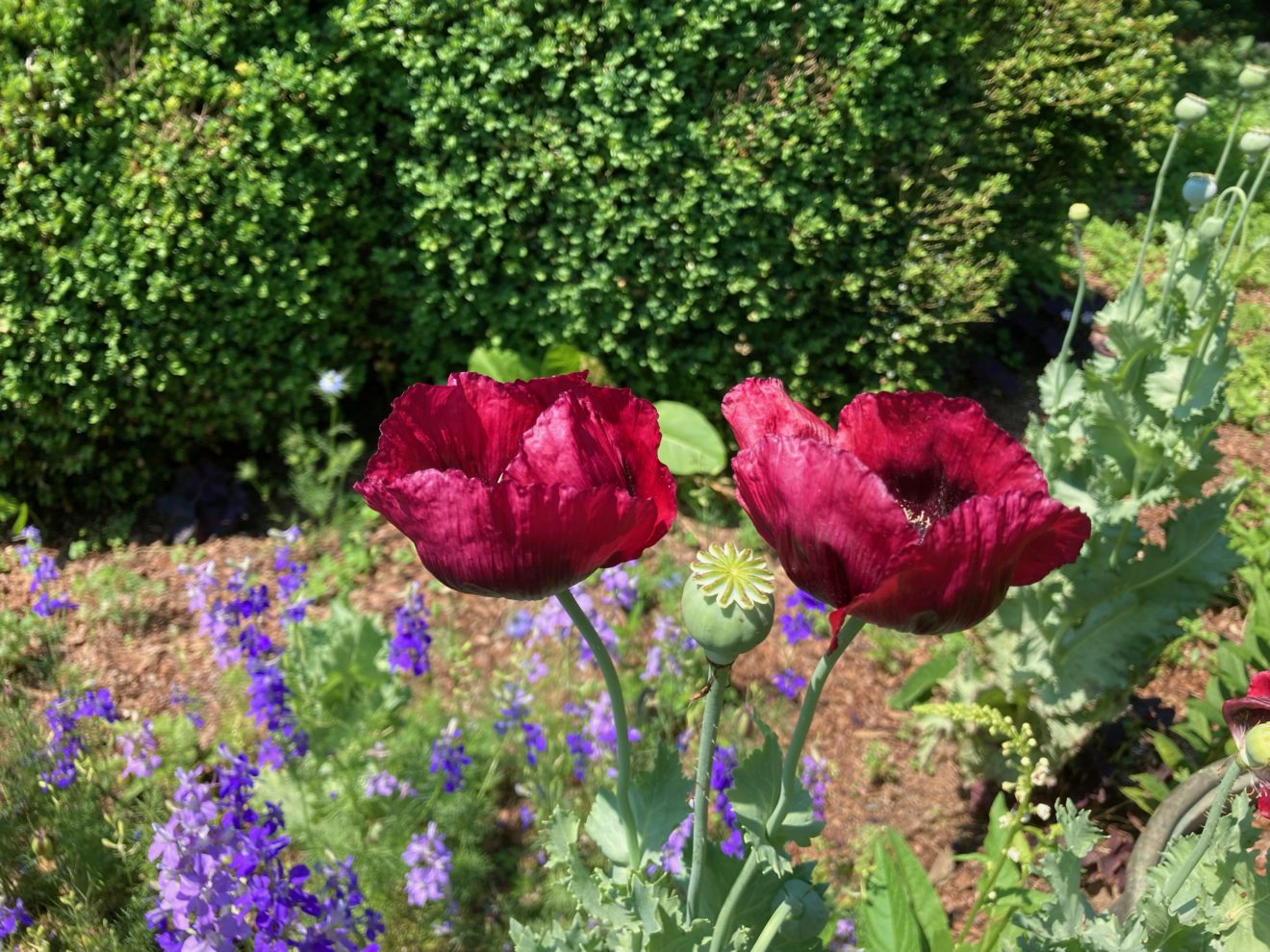 Early Thanksgiving morning, I opened the pantry to get out everything to make stuffing. As I pushed aside cans to find the packages of bread crumbs, I came upon these lovely lavender flowers in the back and thought: What the heck is this? Then, I remembered: Saffron crocus. Oops. A couple of months ago, I bought a wide variety of …
Seasons, cycles, and time have always fascinated me. I enjoy learning how other cultures have experienced these phenomena in diverse ways. In the U.S., we have the four-season astronomical model that's based on the equinoxes and solstices. Some countries use a meteorological definition for seasons—four seasons each containing three complete, undivided months. Some cultures have six seasons. Some have only …