IN THE GARDEN
August 2022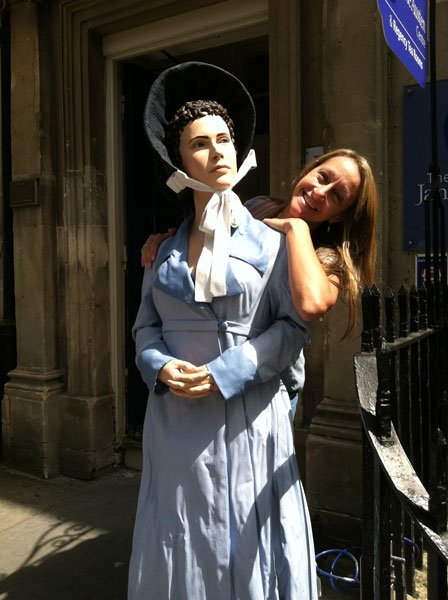 "What dreadful hot weather we have! It keeps one in a continual state of Inelegance!"
I could not agree more, Jane. August is the time of year when I hear many clients, friends, and even the most serious gardeners say, "I just don't think I can do this anymore! It's just toooo hot."
I'm here to encourage you to keep going! A garden doesn't stop, regardless of the weather. But, I'm also here to encourage you to relax your expectations a little bit. In this in-between time of high summer and early fall, let's just try to keep the garden looking as best we can without overdoing it. It'll be cooler soon, and we'll all be revived by crisp mornings and chilly evenings. And maybe even a bit more elegant? :)
It's in that relaxed
spirit that I am sending out this very late and very abbreviated newsletter. This gardener is feeling the heat, too.
Thanks for reading and if you've enjoyed this newsletter, please share it with friends.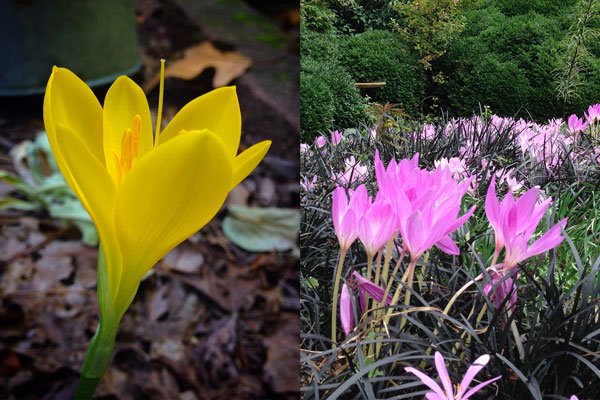 Monthly Maintenance Calendar
Shop catalogs now for the best selection of spring-blooming bulbs to plant in the fall.

Look for sternbergia (above left) and colchicum (above right) bulbs in garden centers. These fall-blooming bulbs are often overlooked. You'll be glad you found them!

Continue to deadhead annuals and re-blooming perennials.
To inhibit the spread of potentially invasive seeds, remove spent blooms on buddleias. Consider replacing with a sterile cultivar like the

Lo & Behold

® series and the "Miss" varieties. More info from the Proven Winners website.
Water less often, but for a longer period of time. For example, water once or twice a week, but be sure plants are receiving an inch of water.
Containers need water more often than in-ground plants. And don't forget to fertilize every other week with a fertilizer made for containers.
It's also important to water the gardener! Run through sprinklers and remember to drink plenty of water while you are outside.

Keep up with the weeding, but know you'll never get them all (and it's ok!).

Pull microstegium (Japanese stilt grass) throughout the month. It sets seed in late summer/early fall, so don't procrastinate with this prolific seeder.
Keep an eye out for Iris Leaf Spot. Just as the name implies, small tan spots appear on foliage and eventually spread causing the leaf to look dry, brown, and unhealthy. The fungus that causes ILS, Cladosporium iridis, overwinters on dead iris leaves. Good garden hygiene is imperative, so clean up all old leaf debris. More info here Iris Leaf Spot Info and Control.
If you are using any fungicide, herbicide, or pesticide, EVEN ORGANIC OR "SAFE" ONES, follow the instructions on the label and always apply with caution.
Prune with caution while it is so hot and dry.
What's missing or amiss in your summer garden? Take note of bare spots and also combinations that didn't quite work.
Keep deadheading and fertilizing roses.
Until Next Month...
When the blackberries hang
swollen in the woods, in the brambles
nobody owns, I spend
all day among the high
branches, reaching
my ripped arms, thinking
of nothing, cramming
the black honey of summer
into my mouth; all day my body
accepts what it is. In the dark
creeks that run by there is
the thick paw of my life darting among
the black bells, the leaves; there is
the happy tongue.
~Mary Oliver, American Primitive
Early Thanksgiving morning, I opened the pantry to get out everything to make stuffing. As I pushed aside cans to find the packages of bread crumbs, I came upon these lovely lavender flowers in the back and thought: What the heck is this? Then, I remembered: Saffron crocus. Oops. A couple of months ago, I bought a wide variety of …
Seasons, cycles, and time have always fascinated me. I enjoy learning how other cultures have experienced these phenomena in diverse ways. In the U.S., we have the four-season astronomical model that's based on the equinoxes and solstices. Some countries use a meteorological definition for seasons—four seasons each containing three complete, undivided months. Some cultures have six seasons. Some have only …