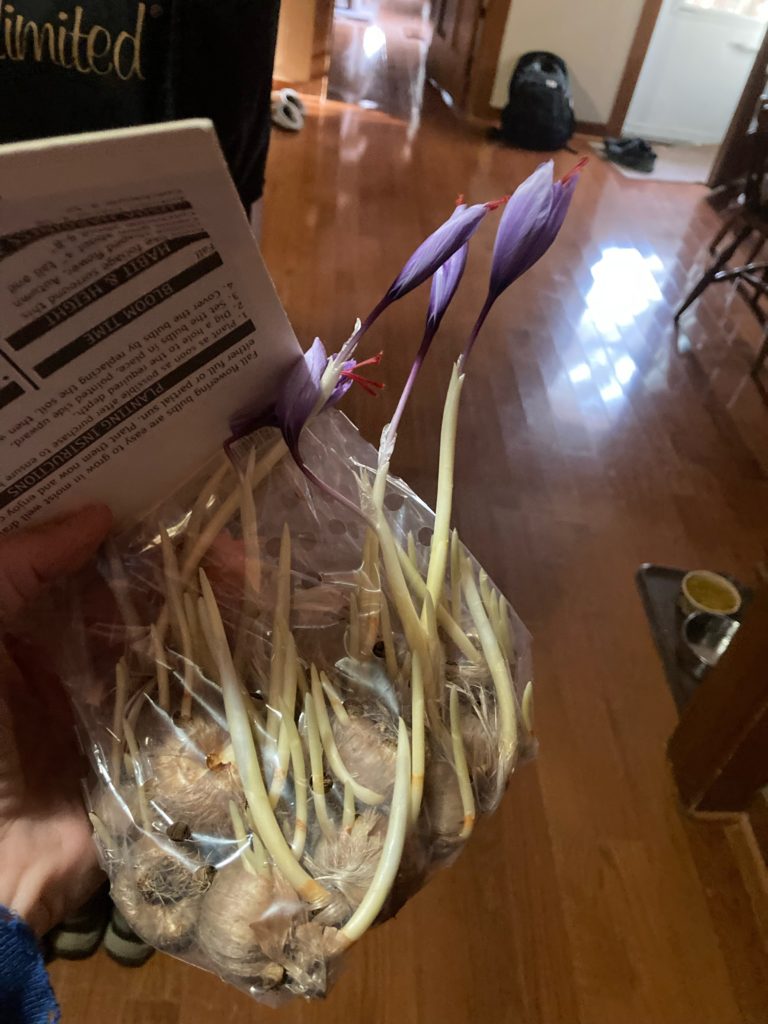 Early Thanksgiving morning, I opened the pantry to get out everything to make stuffing. As I pushed aside cans to find the packages of bread crumbs, I came upon these lovely lavender flowers in the back and thought: What the heck is this? Then, I remembered: Saffron crocus. Oops. A couple of months ago, I bought a wide variety of bulbs from local garden centers. I was determined to plant them all at the correct time. This was the year I would be organized and prepared. Ha! Sound familiar? I forgot about this beautiful fall-blooming Crocus sativus, with the clear admonition printed on the package "Plant Now for Fall Color." I didn't have time to plant them immediately, but I whispered a sincere apology me paenitet (in Latin, of course) closed the pantry, and went on with holiday festivities.
The next day, I set out with my tools–handled bulb planter, Hori Hori knife, gloves, and pruners–and got to work. Not all of the bulbs, technically they're corms, were blooming but they were all growing. At least it was easy to see which end was up and which end was down. Kind of.
A general rule of thumb for planting bulbs is to plant them two to three times as deep as the bulb is tall. I planted these corms about 5″ deep and covered them with soil. I sprinkled a small amount of Plantone on top and watered them in.
Yeah, they looked a little rough at first. But I knew they'd eventually perk up and be ok. And that's the great thing about gardening! Plants are pretty forgiving. They survive without our help out in the uncultivated wild. Unless we forget to water a thirsty plant, overwater a satiated plant, or accidentally do irreparable harm–plants can bounce back. They're pretty resilient in that way. I'm not saying plants won't, and don't, die from neglect or forgetfulness sometimes (or often if you're growing a lot), but I am saying: don't give up on a plant and don't beat up on yourself for forgetting to provide care. Sometimes it isn't too late! My life motto also works as a gardening motto: I'm doing my best and that's the best I can do.
And look what happened just a few days later:
My faith and patience (benign neglect?) was rewarded with a gorgeous patch of saffron crocus. Just look at that bright red stigma (yes, this is culinary saffron)! Will I remember to plant my fall-blooming bulbs a little earlier next year? You betcha! I've already made note of this in my gardening notebook/planner.
So, what are you waiting for? Go ahead and plant any bulbs that you haven't got around to planting yet. Plop them in the ground. Cover them with a blanket of soil. Then take a deep breath. It's all going to be ok. We're doing our best and that's the best we can do.